Customized Wholesale Motorcycle Cover Manufacturer,Supplier,Factory, Exporter For Sale
October 30,2021
Concluded from the forum, people spring for a motorcycle cover out of all sorts of reason. And the most common one is that it protects their motorcycle from bad weather including rain and sand storm as well as ultraviolet in scorching summer days. Today we are going to talk about what are the benefits it bring for us and what factors we should take into considering.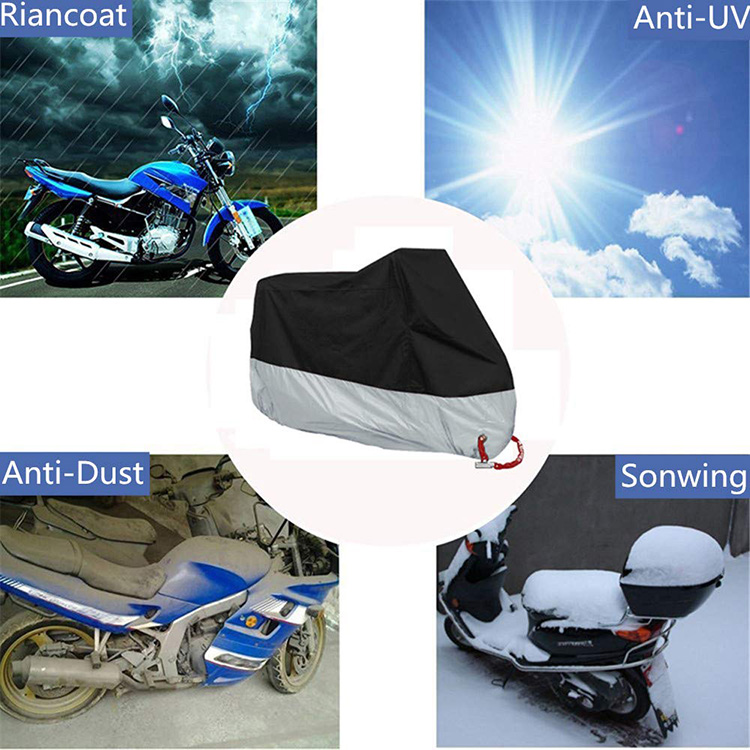 The benefits of motorcycle cover
There are a lot of reasons why people should have a motorcycle cover.
First of all, it will release you time from wiping and cleaning your bike every time you take it for a roll down town.
Secondly, you do not have to constantly polish your bike' painted surface since protective coverings help maintain its shine.
Thirdly, whenever your motorcycle is parked outdoors your tires will last much longer since it will not give the sun a chance to make them all rigid and dry. Your bike seat as well as other parts of your motorcycle always appear newer and will last longer.
So when you bought a new motorcycle and want to protect that new shine, and keep the painted surface of motorcycle shine in the sun the none of the best investments you can add to you accessory list is a motorcycle cover .
Choosing the right motorcycle cover always keep in mind
If you search "motorcycle cover" on eBay, you will get a tons of results in second. It would be also a big challenge to choose one among thousands of products. But we have concluded the factors when buying a bike cover.
Quality always comes first. Choose the best quality covers and never compromise with quality.
Fitting of the cover is also matters so choose the best fitted cover for your motorcycle.
Choose the design that suits better your bike and what you want for your bike.
Other things to consider when choosing a good quality motorcycle cover are the material it is made of, size, and price. When choosing a cover you want to make sure that it is made from non-abrasive non-metallic material. Anything that will scratch your painted surface should always be avoided. The material of the motorcycle over should be waterproof and breathable. It should also provide a level of UV protection. This is very important especially on those hot days of summer when getting on as unbeaten seat can be really uncomfortable.
It is suggested to purchase heavy duty bike covers that are made from polyester cotton since they are pretty much long lasting. Unlike cheap plastic coverings that do not guarantee complete protection and are likely not breathable, go for high quality covers instead. Plastic motor cycle covers only provide temporary protection against direct sunlight and rain and may even get some of your motorcycle parts damaged in the long run.
If you are looking for a customized motorcycle cover manufacturer and wholesaler, please spend a few minutes visiting our website and we are looking forward to be your first choice. FOSHAN YAHENG PLASTIC PACKAGING CO.,LTD is one of the leading wholesale motorcycle cover manufacturer and supplier and exporter and factory in China,welcome to customized motorcycle cover for sale.