customized wholesale protect garden furniture cover manufacturer,supplier,factory, exporter for sale
October 30,2021
Protecting the furniture in the garden from harm is a daunting task, and you need to consider its potential risks from all angles. One of the biggest hazards is from the sun. The protect garden furniture cover can perfectly help you solve this problem, which can extend the service life of furniture. Today let's mainly talk about protect garden furniture cover!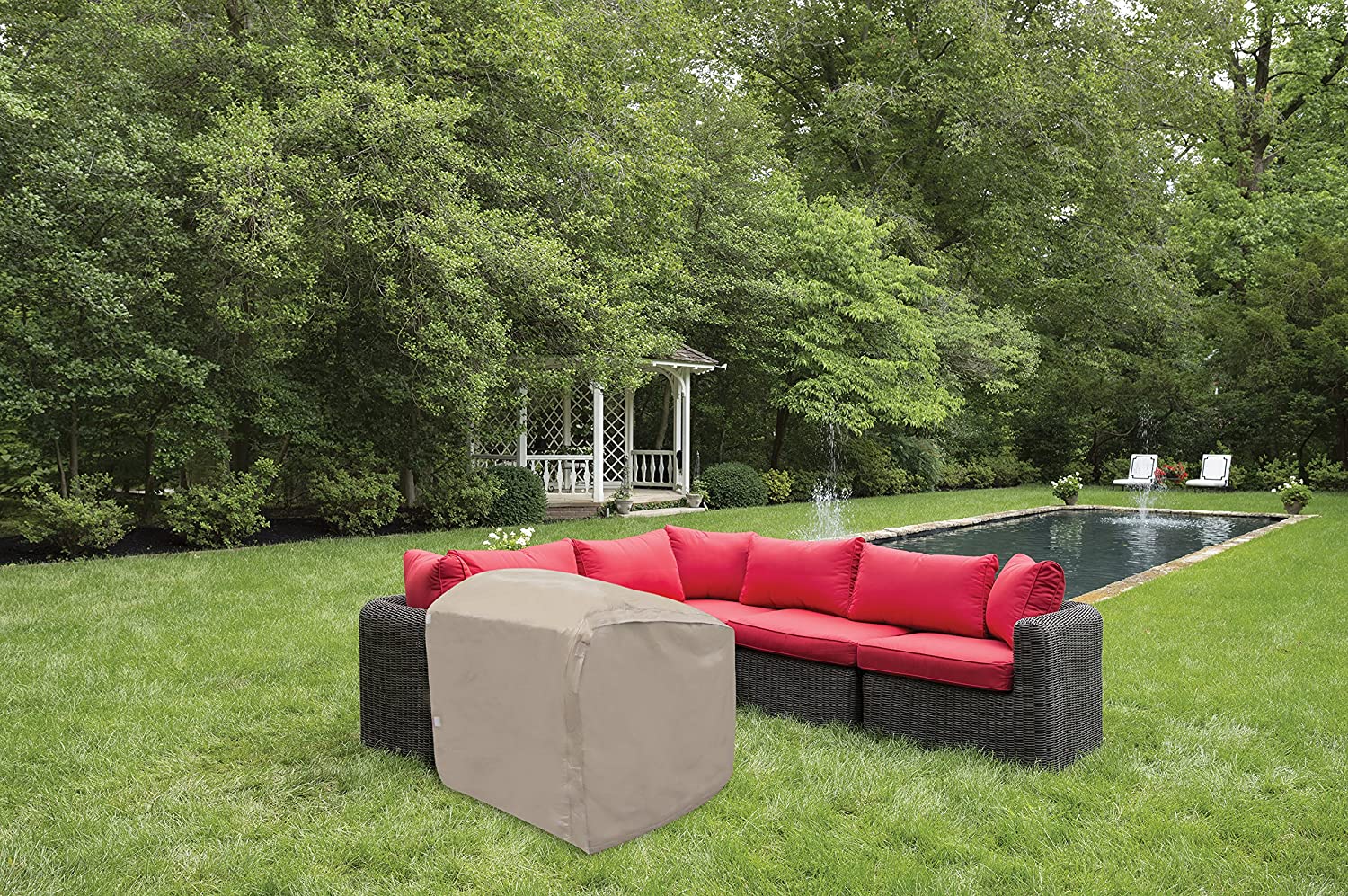 What characteristics should the garden furniture protective cover have?
Water resistance
When looking for outdoor furniture covering materials, polyester is an ideal material. This material is strong and durable enough to protect outdoor patios from damage caused by rain and snow. Some covers may be highly waterproof, but in order to prevent water damage, it is best to find polyester furniture covers that have undergone a certain degree of waterproofing.
Breathability
Outdoor furniture covers should also be breathable. If the material is not breathable, the air inside will become too dry and moldy. This will cause the materials on the furniture below to absorb the musty smell over time. An airtight covering will create space for mold or mildew to grow under the protective covering. Although strong and durable materials are required to withstand the effects of damp or cold weather, it should also have proper ventilation to prevent negative effects under the covering. Otherwise, some drawbacks will be inevitable.
Weight
The weight of the material is another aspect to consider when looking for a protective cover. A cover made of fragile materials will not be useful because the wind will blow it away, and rain, snow or ice can easily pass through the cover and damage the furniture. This will not have a protective effect.
Other coverings can be too heavy and bulky, making cover and uncover furniture complicated, and taking up too much storage space. Polyester is the ideal weight because it is durable enough to protect furniture without being too heavy or too bulky to become impractical. Also, keep in mind that a strapped outdoor hood will help reduce the possibility of being blown away by the wind.
Benefits of using a protect garden furniture cover
Protect furniture from sunlight
Even if your outdoor furniture is not wooden, furniture sets are still a good idea. If exposed to the natural environment, plastic furniture will fade and crack. Furniture mainly made of fabrics, such as porch chairs, will fade in the sun.
Keep furniture away from water
For people who don't have outdoor furniture covers or don't like wet bottoms, rain is an annoyance. Fabric and plastic chairs can collect and retain moisture on their surfaces, making them less attractive before being emptied or dried. After heavy rains, wooden furniture will become more annoying because it will remain damp for the next few days.
Provide protection for wooden furniture
Anything you leave outdoors is easily damaged by weathering. Wooden furniture is particularly vulnerable when placed outside. The light from the sun can cause wooden furniture to fade, requiring homeowners to spend time renovating or repairing. Water stains pose the greatest threat to wooden furniture, especially furniture without covers or weatherproof coatings. As more and more water seeps into the fibers of the wood, the furniture will begin to rot. The most common cause of water damage is rain or snow, but prolonged exposure to high humidity can also cause such damage.
How to clean the protect garden furniture cover?
It can be cleaned with soapy water. For areas with obvious stains, you can use a soft-bristled brush to clean it, not a washing machine.
It cannot be wrung out directly. It must be dried in a hanging form to keep the shading cloth in its original shape, not easily deformed, and the protection function will not be greatly compromised.
Protecting furniture in garden from damage is a money-saving and essential thing. You should take action as soon as possible. We are customized wholesale protect garden furniture cover manufacturer, supplier, factory, exporter for sale, providing customers with high quality products and professional service, welcome to contact us for a free quote.