customized wholesale suit bag manufacturer,supplier,factory, exporter for sale
October 30,2021
No matter how expensive the suit is, if it is not carefully taken care of, it will easily become deformed and lose its proper wearing effect. Long-term maintenance at a dry cleaner is also a large overhead. Then, how to take care of the suit more effectively? Do you need to use a suit bag?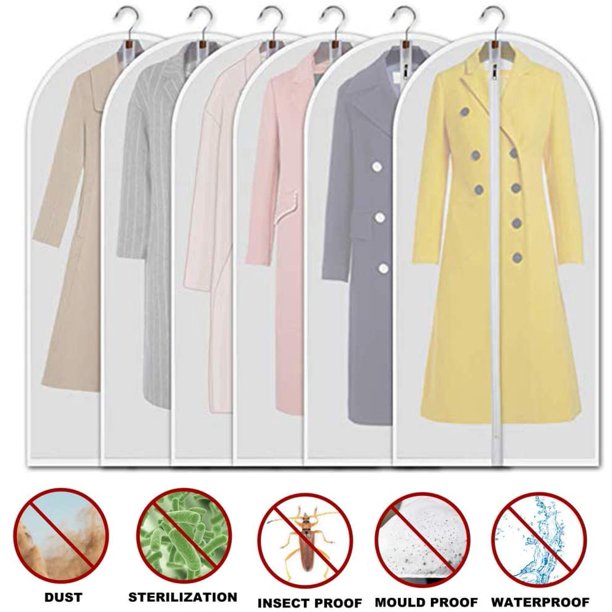 How to maintain the suit?
The maximum durability of men's dresses and suits is 4-5 years. The recommended washing method is dry cleaning. It should be noted that top foreign brands only guarantee that there will be no bubbles within 6 times of dry cleaning.
After dry cleaning, hang it on a hanger, put mothballs and other insecticides in your pocket, and put on a plastic sleeve. You'd better choose a good ventilation, low humidity, dry and dark placeto hang it.
The best way to hang suits is a wide-handle arc-shaped suit hanger made of wood or plastic.
The trousers can be hung with a combined clothes hanger or a special trouser rack with a clip to align the trousers, clamp the trousers, and hang them upside down.
When storing the suit, use a breathable dust cover to prevent friction and dust.
Why need you use a suit bag?
Maintaining a suit, using a suit bag can achieve maximum effect. Here, we recommend our most popular suit bag to you.
Brand-new non-woven fabric, a new generation of environmentally friendly materials, it can be directly used as a mask, which is more environmentally friendly than other types of packaging (paper bags, plastic bags), and has a lower cost. 
Adopt a good active and environmentally friendly printing technology as the outer packaging of suits, which is convenient for consumers.
The double-needle zipper adopts the latest double-needle zipper, which is stronger and smoother. Good quality, longer use time! Print the suit manufacturer's logo on the bag body, which can be used for the manufacturer's advertisement.
Perfect antibacterial, the use of dust cover can make the clothes wide and stylish. It has the advantage of dustproof, mildewproof, moistureproof and mothproof. Consumers can easily store suits at home after purchase.
How to choose a suit bag?
Most of the clothing dust covers on the market are transparent or translucent, and the materials are nothing more than non-woven fabrics and PEVE (a kind of plastic material). Either the whole material is non-woven fabric or PEVA, or it is a mixture of non-woven fabric and PEVA.
Non-woven fabric
The main advantage of the non-woven dust cover is that it is lighter in weight and the surface texture is softer to the touch. At the same time, the non-woven dust cover is more breathable and does not have any irritating taste.
However, non-woven fabrics also have their own shortcomings, that is, its strength is worse than that of the general textile department, and it cannot be washed.
PEVA
PEVA is the abbreviation of polyethylene-vinyl acetate. This material itself is environmentally friendly and has no taste. The biggest advantage is waterproof, but the price is more expensive than ordinary plastics, which can be understood as a special plastic.
What should you do if the suit is moldy in the dust bag?
It is a common experience for many people to put the clothes in the dust-proof bag and get moldy. Generally speaking, as long as they are stored properly, they will not get moldy. The reason why the clothes are moldy is because the environment is humid. If we want to solve this problem, we It is recommended that you first take out the clothes and then soak the moldy areas of the clothes in high-concentration detergent water for about 20 minutes, then drip alcohol into the moldy areas and scrub the moldy areas several times. The moldy areas of the clothes will fade away until they disappear.
Suit cover dust cover and non-woven dust bag refer to non-woven dust bag used to hold suits or other clothing. It can be matched with PVC, zippers and other accessories. It is a kind of clothing bag. High-end suits and jackets need to be carefully protected. When you put the dry-cleaned clothes in the closet, and when you take them out next time, you will find that dust has fallen on them, so the non-woven dust bag and suit bag, etc. can help you solve all your problems, effectively preventing dust, mildew, and moth, saving space, keeping it straight, neat and tidy, so you can have a try!
In short, these two materials of suit dust cover will have their own advantages, depending on your preferences. We are customized wholesale suit bag manufacturer, supplier, factory, exporter for sale, any interest, welcome to contact us at any time.